Get more done with less using Chrome Devices
Frontline workers are the backbone of your business. Empower them with cloud-native, secure-by-design products for every use case with Chrome Enterprise.
See how Chromebooks can help lower costs, simplify operations, reduce security risks and decrease downtime, over a 3-year period. 
Runs on Chrome OS
Lightweight Operating System
Fast and boots up in seconds
Easy to maintain and update
Runs Android applications
Secure and no need for antivirus
Chrome for your daily productivity
Chromebooks
A system that boots up in seconds and the overall computer runs smooth. Setup requirement is minimal. A user only has to flip open the Chromebook and login into a Google account.
Maintenance is also hassle-free unlike other operating systems like Windows. Google also updates the OS regularly and automatically. Chrome OS also has a build-in anti-virus protection. There is also no need for regular updating of several apps unlike in OS X because Chrome OS apps are stored in a cloud.
Does not require anti-virus
Works in online and offline mode
Long battery life
Cloud managed devices
More affordable than other laptops
Small, but powerful desktop computer. It is a highly reliable and powerful enterprise grade solution. Chromeboxes are sleek, compact computing devices that are suitable for everyday work.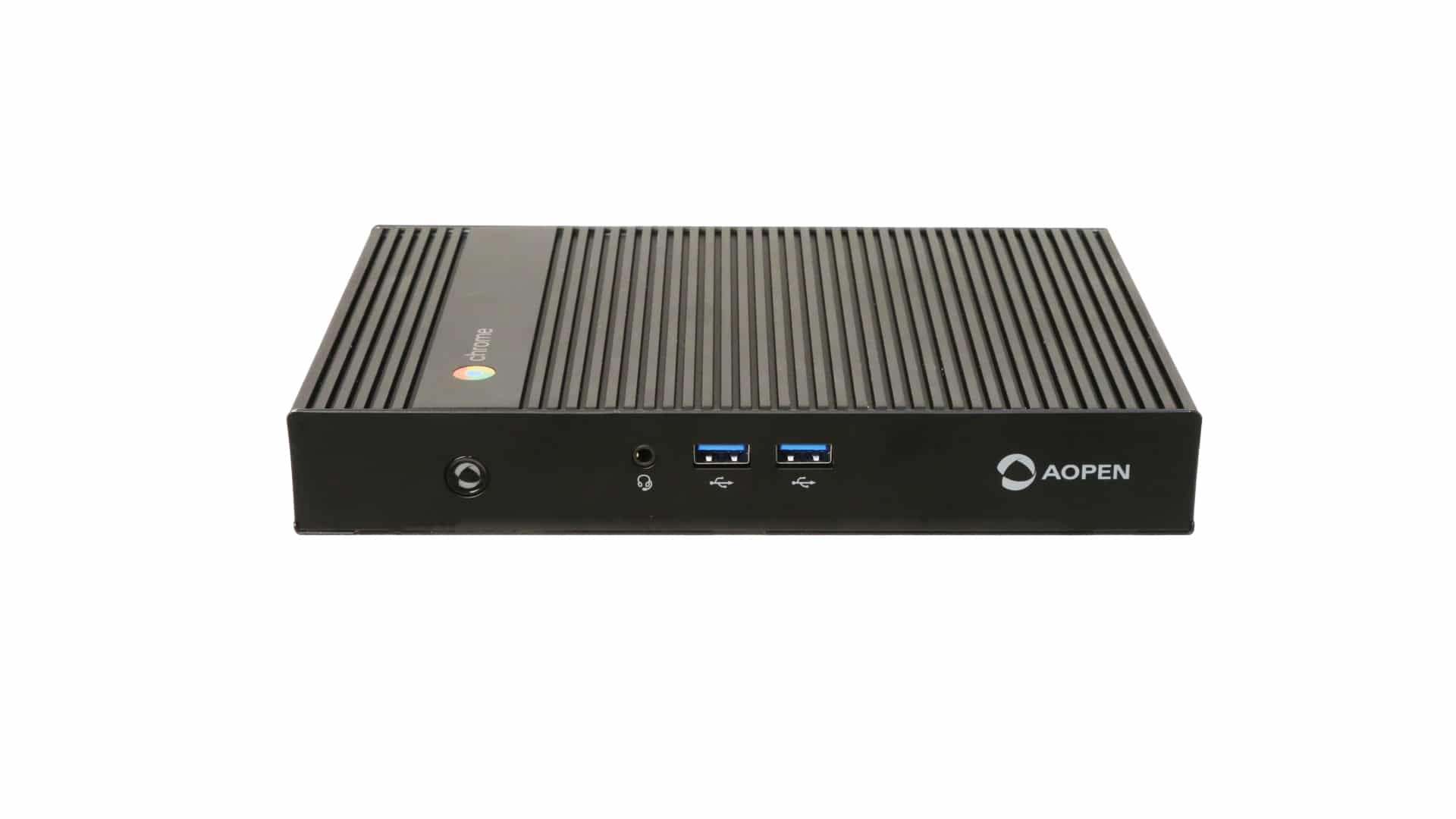 AOPEN Chromebox Commercial
A highly reliable, powerful device that operates 24/7 under tough conditions. It sets itself apart from any Chromebox, being a commercial grade device, allowing speedy and secure signage from the cloud using Google Chrome OS.
Video-conferencing solution for standard-sized or large rooms. Includes the Chromebox device, touchscreen, camera, and speakermic. It enables the people in your organization to meet and collaborate with colleagues, no matter where they are.
Deep integrations with G Suite make joining a meeting as simple as a tap on the controller. Register the room with Google Calendar, and your organization's Hangouts meetings will automatically appear on the controller with all of the details. Instantly present or share your screen wirelessly to collaborate with participants across the globe.
Integrates to G Suite Calendar
Cloud managed devices
Requires a Chrome Enterprise License
Chrome for your display needs
Digital Signage and Kiosks
Attract attention with digital signs. Broadcast media at storefronts or venues to educate and advertise. Get your message out there.
Simply follow these steps:
Choose the appropriate Chrome device
Enroll the device with a Chrome Enterprise License
Setup and configure Google Signage Builder
Broadcast message on your display device
Manage all your devices with Chome Enterprise License
Manage, provision, deploy and implement policies to Chrome devices across your enterprise from the cloud.
Build value in the organization by streamlining arduous IT management tasks, and focus on your core competency.
Over 200+ policies for Users, Devices, Fleet Management, Printer, Chrome Browser Configurations and Permissions

Flexible Enterprise Mobility Management

Support for SAML 2.0 Single Sign-On

Manage Google Play