Introducing Google Workspace
Everything you need 
to get work done, 
now in one place
In October Google annouced the release of Google Workspace. The new improved version of G Suite. COVID19 pushed the world 5 years into the future when it comes to the way we work.
Work is transforming in unprecedented ways, and employees are more overwhelmed than ever and Google Workspace is build to assist with the way we work and live in this new world of ours.
Work is no longer a place
An estimated 48% of workers will continue to work remotely post-COVID
Time is more precious
1 in 4 working parents is also a primary caregiver right now
Human connection is crucial
1 in 3 workers feels disconnected from company culture and colleagues
Google Workspace present to you flexible solutions make work from anywhere a reality; helpful tools let people maximise their time; and simple, human-centered design deepens connection.
Business or Enterprise Edition?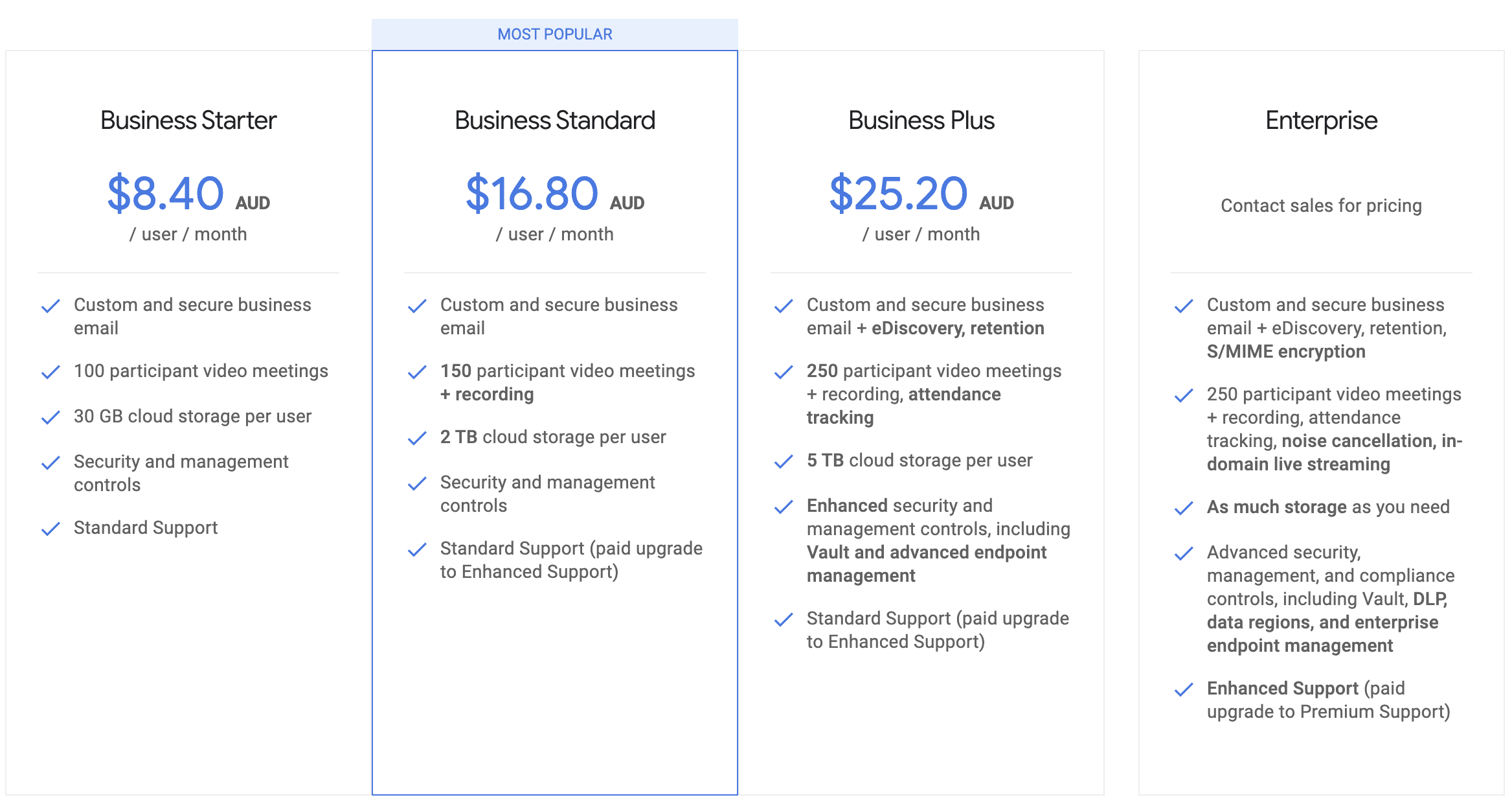 There are two main editions of Google Workspace. Google Workspace Business plans start as low as $8.40 per user per month for Business Starter, $16.80 per user per month for Business Standard, and $25.20 per user per month for Business Plus.
For Enterprise users, Google Workspace Enterprise is $28.00 per user per month for Enterprise Standard and $42.00 per user per month for Enterprise Plus.
What if I have G Suite?
If you have any version of G Suite you will be migrated to a new Google Workspace Edition. Depending on what your current SKU is and the number of license, these things will determine your migration path. If you have more than 300 users, you will need to upgrade to Google Workspace Enterprise edition.
What's next?
You would have recevied a notification from Google. If you have Geeks on Tap as your Google Partner, we will reach out to you with more deatils. Alternatively, you can call the office on 1300 885 489 to talk to us or email support@geeksontap.com.au and discuss what discounts you may be able to lock in prior to the 31st of March.
If you do not have Geeks on Tap as your Google Partner, call is now, 1300 885 489 to discuss what discounts maybe available for you and your team.